In a normal temperate environment a person requires 3-5 litres a day, increasing with temperature and levels of exertions. If not enough water is consumed dehydration will set in. Symptoms include thirst, headaches, dizziness, tingling in the limbs, reduced saliva and urine output and dark urine. At best dehydration will result in reduced concentration, at worst death. Tip, remember coffee and tea (not as bad) are diuretics so can not be considered as part of your fluid intake, when you have a chance to refill your water bottles take this opportunity to drink as much as possible, better in than out. A good list of water doníts is given by Hildreth, a summarised list is given below:
Do not drink sea water : salt dehydrates your body, do not dilute sea water with fresh water, donít drink brackish water.
Do not drink urine : has a similar effect as sea water.
Do not drink soapy, salty or milky water : from plants or water contaminated with minerals (there are exceptions to this rule e.g. coconuts etc)
Do not drink alcohol : like salt, alcohol dehydrates your body.
Do not be afraid of drinking too much water : when the chance occurs and a good source of water is found drink as much as possible.
Do not forget to drink in cold weather : in cold or wet weather its easy to forgot to take on enough water, a deliberate effort is required to keep hydrated.
Do not ration water if you only have a small amount : if you have less than 1 litre its best to drink as much as you require when thirsty.
Do not eat food if you have less than 1 litre of water a day : especially true in hot climates, digesting proteins use up a lot of water and should not be eaten until a water supply is found.
Back to Index
The easiest means of collecting water are from rivers, lakes and ponds as shown in figure 3.1.0. Rivers are normally best, as the chance of contaminates accumulating are reduced. Tip, obvious signs of pollution include foaming, oil, areas of dead vegetation and dead fish. If possible collect clear, fast, free following water, upstream of any animal activity or human habitation, as shown in figure 3.1.0.1. Another good water source is rain water and snow. Apart from heavily industrialized areas, contamination from water passing through the atmosphere is minimal. The main source of contamination comes from the surface used to collect the water. Effective rain traps can be made from a tarp angled to fill a suitable container. Remember contaminated water may not have any warning odour or flavour, if in doubt boil. Other techniques I havenít needed at this time include:
Well: can be used to obtain water from water saturated ground e.g. stagnant pools. Dig the well approximately 30 - 50cm in diameter a few meters from a pool, 30cm deeper than the point at which water first appears in the well. In sandy soils this depth may not be possible as the sides tend to cave in. Tip, push the base of a cup into the soft sand at the base of the well, allowing you to fill the cup easily. Wells also works well after a period of wet weather when any surface water has disappeared as shown in figure 3.1.0.2. The top 20cm of soil can appear dry, however, water tends to accumulate in low areas of the terrain, dry stream beds, compacted areas or at the base of sloping ground or cliffs. Tip, look for moisture loving plants, Softrush, Birch, Alder etc. As you dig down you can see distinct change in the sand or soil, going from dry, damp to saturated. If you donít reach the saturated level within a spades depth you can enlarge the wellís diameter to allow you to go deeper. However, it may be more efficient to try another location. When finished, allow the well to fill then carefully bail out this water, allow to fill again and settle before use. One difficulty of this technique is that the walls of the well are unstable (especially in sandy soils), causing the sides to collapse i.e. a wider hole must be dug to achieve the required depth. To prevent well wall collapse i.e. to maintain a good depth of water, it can be lined with reeds. Gather a bundle of reeds of the required depth and width, secure with a lengths of cord, top, middle and bottom. Now push down the central reeds to form a cone shaped recess. Trim the bottom flat with a knife and place in the well, back filling to hold it firmly in place. The reeds stabilise the well walls and help filter the water.
Dew: in an emergency early morning dew can be collected using an absorbent cloth from condensing surfaces, or, from dew traps i.e. a pit 30 cm deep filled with smooth stones, lined with a plastic sheet.
Ground water: rain water that falls on the land can sometimes be found seeping up from the base of a cliff. Isolated patches of plants or mosses are a good indication of where to look. Figure 3.1.0.3 shows a small fresh water stream flowing down a beach on its way to the sea. These tend to be slow flowing, however, if you dig a hole or place a suitable container in its path they can yield substantial quantities of water.

Figure 3.1.0 : Water sources : Ponds
Figure 3.1.0.1 : Water sources : Streams
Figure 3.1.0.2 : A simple well
Figure 3.1.0.3 : Ground water seepage from the base of a cliff
Drinking untreated water at best may result in diarrhoea, at worst serious illness or death. The main source of containments are:
Turbidity : cloudy, opaque, or thick with suspended matter, typically fine organic particles. Can harbour and shield micro organisms from chemical purifiers and boiling, removed by filtering e.g. Millbank bag.
Parastic worms and protozoa : removed with ceramic filters, killed with chemical purifiers (Iodine, chlorine) or boiling.
Bacteria : removed with ceramic filters, killed with chemical purifiers (Iodine, chlorine) or boiling.
Viruses : killed with chemical purifiers (Iodine, chlorine) or boiling.
Chemicals, pesticides and heavy metals : reduce by filtering through activated charcoal.
The standard method of purifying water is boiling. First filter the water through a Millbank bag to remove any suspended particles (figure 3.1.1). This is to avoid the burnt banger affect i.e. when barbequing sausages its easy to burn the outside whilst the inside is still raw. The same is true for suspended particles in the water, which protect any viruses and bacteria within from the external heat. When using a Millbank filter ensure the bag is well soaked before filling it to the top with water (can be soaked in the billy as this can be boiled dry, or used to boiled the water later). Discard the initial water from the bag until the water level reaches the marked line, as this water is used to clean the outside of the bag (can be poured back into the bag if water scarce). Water normally takes 10-15 minute to drain through the bag, however, this is dependent on the turbidity of the water, large amounts of suspended matter tends to clog the bag increasing this time (if possible allow the water to settle before filtering). Tip, convenient trees to hang the millbank bag from near your water source are rare, therefore, cut three branches to form a tripod, makes life a lot simpler. The collected water should be bought to the boil i.e. the point at which the water bubbles furiously. Although not always required, to be safe, continue boiling at a rolling boil for a couple of minutes, some texts Iíve read say to boil for 20 minutes. I was told that scientifically speaking this was not required because as soon as the water reaches boiling point (100 degrees) all common harmfully bacteria and viruses will be killed, most are destroyed at 75 Ė 85 degrees. The reason for this discrepancy is probably to avoid confusion, people mistaking the early stages of boiling i.e. the pot starting to sing, small bubbles forming, with a true rolling boil. Another reason may be due to the amount of suspended material in the water i.e. non-filter water. These can provide refuge for bacteria etc, preventing them from being exposed to the full water temperature i.e. the barbequed sausage affect, burnt on the outside, raw in the middle. Note, boiling only kills living contaminants i.e. parasites, bacteria and viruses, chemical contaminants e.g. heavy metals, toxins produced by rotting material, sewage etc, will not be affected. Tips, its better to spend a little bit of time finding a Ďcleaní water source (running water) than trying to purify a Ďdirtyí one (stagnant water), do not re-boil water as this concentrates any chemical pollution, to speed up boiling keep the lid on the billy.
Figure 3.1.1 : Millbank filter

Figure 3.1.1.1 : Boiling, improvised filters
1. Image : reference - Handbok Overlevnad
An alternative to boiling filtered water is chemical purification i.e. chlorine and iodine. Chlorine doesnít work as well in alkaline water, requiring additional time to purify water. Temperature also affects the speed at which chemical purifiers work. In general iodine is safer and more effective. Always follow the directions carefully:
Chlorine tablets: add one tablet to 1 litre of water. If water is very cold or heavily contaminated add two tablets. If using a container with a screw top, put top on loosely so that, when shaken it will rinse the top and screw threads. Shake container, tighten top if necessary and wait at least 10 minutes before drinking. Wait at least 20 minutes if you have added two tablets. For washing food use 3 tablets per litre of water. Wait 10 minutes before use.
Iodine drops: for sterilisation add five drops of iodine to 1 litre of water. Allow to stand for 30 minutes before drinking. If Giardia (protozoan, single celled microscopic animals) suspected add 12 drops to 1 litre of water. Not suitable for children under 12 years, pregnant woman, those with a thyroid condition or long term use.
Although purifying water by boiling is reliable and relatively simple it requires a fire and a fireproof container. Constructing a fire may not always be easy but with some basic knowledge as described in the fire section should be possible. Fireproof containers on the other hand may not always be available, therefore, an alternative approach that can be used for boiling water and cooking is stone / rock boiling. Rocks are heated in a fire, then transferred into a container to bring the water to a boil, being replaced with new rocks to maintain a rapid boil or simmer. As the container does not come into contact with the fire a wide range of options are now available. The simplest solution is to construct a bowl by digging a shallow hole in the ground, capable of holding a couple of litres (or more) and lining it with a waterproof material e.g. plastic sheet, waterproof clothing etc (in the article below rawhide was used). A more elegant solution (a lot more work) is to make a wooden bowl. The easiest way to do this is to split a suitably sized log with an axe, remove the bark and clean up the split face so that its relatively flat. Cut out a bowl using the axe, cutting across the grain as not to split the log, as shown in figure 3.1.2. Bowl depth is limited by the size of the axeís blade i.e. a long shallow bowl is easy to make than a short deep one. Areas that can not be reached using the axe can be burnt out by placing embers into the bowl. This process can also be used to clean out rough cut marks and enlarge the bowl. If no suitable cutting tools are available the bowl can also be burnt out from the start. In the examples shown in figure 3.1.2 charcoal is burnt in the bowl, to produce the required embers. Burning out wood isnít as easy as it may sound. Simply placing embers on the wood will not cause them to burn down into it to any depth i.e. most of the heat will escape upwards. To burn down into the wood use a tube to blow air onto the base of the ember to direct and accelerate the burning process. The tube restricts and focuses the air allowing you to maintain the air flow for a longer duration (the tube doesnít have to come into contact with the ember so can be a reed, plastic tube etc). Tip, have a good supply of embers as this process takes a long time to complete, be careful not to burn too close to the edge or too thin as this can split the wood. When a bowl has formed knock out the remaining charred wood using a round stone i.e. the charred wood is brittle and easily pounded off, then repeat. Iíve read that the best woods to use to produce a bowl quickly are soft woods e.g. pine etc, and wood that has turned slightly punky, as these burn quickly. Finally, remove excess wood from the sides and level the bottom. The top example shown in figure 3.1.2 uses only burning to remove wood, after about an hour of burning to produce the embers and another half an hour of blowing only a 2 cm bowl has been formed. Compared to the bottom example that only took 15 minutes to shape using an axe. Again burning out the rough wood takes about the same time. Therefore, remove as much wood as possible using a cutting tool, as burning out wood is possible, but you do need a good supply of embers and quite a bit of time. Note, as the bowl is not varnished it will absorb water, swelling the wood fibres until it is waterproof. Below are some useful documents on burning out bowls ive found on the web (due to possible copyright conflicts these are only accessible from the local machine) :


Figure 3.1.2 : Making a wooden bowl
The general consensus seems to be that the best rocks to use for rock boiling are igneous rocks as they are less likely to fracture from the heat unlike sedimentary rocks that may explode when heated due to trapped moisture i.e. steam causing a rapid increase in pressure. For this reason only heat dry stones, not ones sourced directly from a river. There are three categories of rock:
Igneous - these are rocks that solidified directly from molten lava or magma. Examples are: granite, basalt, pumice.
Sedimentary - these are formed when igneous rocks are eroded as a sediment and deposited by water or wind. Fossils are often found in this layer. Examples are limestone, chalk, sandstone.
Metamorphic - these are made up of igneous and sedimentary rocks of all ages which have been subjected to intense pressure. Examples are: slate, marble, quartzite.
Igneous rocks can be identified by the colour index as shown in figure 3.1.3. Light colours, including white, light gray, tan and pink, indicate felsic, rich in silica (SiO2). Dark colours, black and dark browns, indicate mafic, low in silica, but† rich in iron†(Fe) and magnesium (Mg). Note, igneous rocks can contain a mixture of light and dark coloured minerals. The texture of igneous rock i.e. its crystal size can vary a lot from very large crystals, fine grained textures, crystals of two different sizes, glassy or bubbly. Sedimentary rock identification is primarily based on texture - clastic, chemical, and biologic. Clastic sedimentary rocks contain clasts, fragments or pieces of rock or minerals e.g. clay / silt, sand or gravel. Chemical sedimentary rocks are identified by the minerals they contain - quartz, halite, gypsum and calcite. Biologic sedimentary rocks result from the accumulation of organic material or biologic activity e.g. shell or fossil fragments. Therefore, as a general rule, dark, fine grained rocks such as basalt are the one to go for. Tip, Iíve read that sandstone, flint, obsidian and quartz should be avoided. When choosing rocks match them to the size the bowl being used, something around about the size of a chicken egg or apple are good. Place the stones in a good fire and leave until hot, at least half an hour, have read they should be left for 2 hours. Then using forked sticks or wooden tongs transfer the rocks to your container. If the container has sufficient volume they can be dropped directly into the container, otherwise they must be held in the water with the tongs. Holding the stone in the water is also advisable if you are using a hole lined with plastic, to prevent the rock melting this waterproof lining. Tip, remember to have a good supply of rocks to maintain the boil.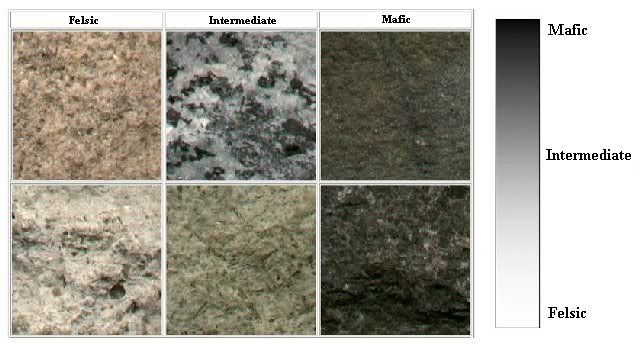 Figure 3.1.3 : Igneous rocks
1. Image : reference -
A compliment to boiling or chemical purifiers are ceramic filters as shown in figure 3.1.4. Modern variants are siphon or pump driven, feeding water through a ceramic element removing suspended material and bacteria. However, the pores within the ceramic filter are too large to remove viruses, so the water must still be purified by boiling or chemical purifiers. Modern filters can also contain a second filter element containing iodine resin beads. These are negatively charged attracting the positively charged micro-organisms in the water, reducing the required iodine concentration, improving water taste. Note, the water still needs to be left the specified time to allow the chemical purifiers to take effect. In an emergency situation an improvised column filter can be made from a suitable container e.g. cone of birch bark, an old bowl, plastic bottle or can, as shown in figures 3.1.1.1 and 3.1.4. This is then filled with layers of charcoal, sand, grass, gravel and other suitable filtering materials e.g. cloth, sphagnum moss etc. Note, Iíve read that sphagnum moss (figure 3.1.4.1, found in wet, boggy areas) has a slight antiseptic property making it particularly effective. The course filter materials e.g. gravel, grass, sphagnum moss etc are placed on top, trapping suspended organic materials. Whilst the lower sand, peat etc layers filter out the smaller particles before the charcoal layer help remove bacteria and other chemical impurities. Iíve read that the charcoal should be broken up into pieces approximately 5mm in diameter, I assume to increase its surface area, but not too small as to be washed out of the filter. Charcoal is produced by heating wood in a container (without air), driving out the volatile materials as gas. The resulting charcoal (carbon) is very light as the material removed produces millions of tiny pores between the carbon atoms. This large surface area provides numerous bounding sites allowing the carbon to absorb / trap chemicals and bacteria as they pass through it. Even so, from what Iíve read it does not perform that well at removing pathogens, most of the emphasis seems to be on clearing and improving taste. To maximise performance the charcoal should be frequently renewed (charcoal cannot be regenerated). If this is not done or the filter is left unused for some time, the charcoal can become a breeding ground for bacteria. In general the deeper the container the better as this will allow more and larger layers of filtering material. When packing these layers ensure that they are well packed at the edges to prevent the water bypassing the filtering layers. Tip, water may need to be passed through the filter more than once, its also a good idea to have a final layer of gravel or sphagnum moss in the bottom of the filter to prevent the output holes from becoming blocked. Figure 3.1.1.1 shows two types of filter, down flow and up flow. The advantage of up flow filters are that they can be easily cleaned out by reversing the water flow, flushing out any trapped material.
An alternative to charcoal filtering are clay or ceramic filters. These vary from modern pump to traditional gravity driven clay pot filters, as shown in figure 3.1.4. Clay pot filters are still used in developing countries as they are easy to make and use. These filters are made from clay that has been mixed with a fine organic material. The clay is then formed into a container and fired, burning out the organic material creating a porous structure capable of filtering out suspended material and bacteria from the water poured into it. Note, in normal situations boil or use chemical purification as charcoal and ceramic filters do not remove viruses from the water.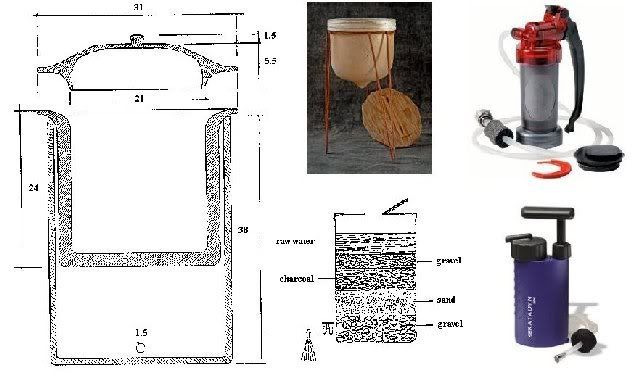 Figure 3.1.4 : Charcoal, clay and ceramic filters
1. Image : reference -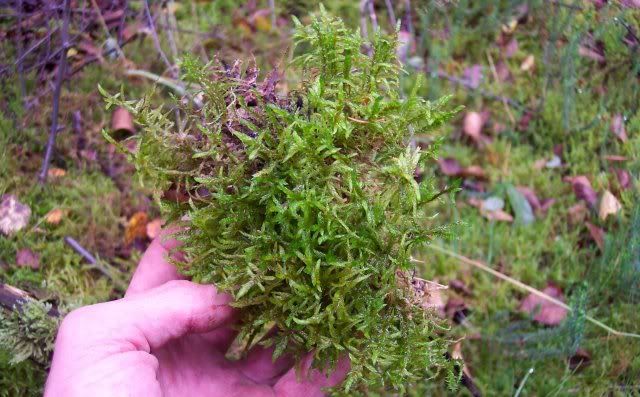 Figure 3.1.4.1 : Sphagnum moss
Below are some useful documents on water and food hygiene Iíve found on the web (due to possible copyright conflicts these are only accessible from the local machine) :
One of the trickiest decisions to make is how much water do you need to carry. Ideally you would carry just enough water to reach the next water source, but this can not always be calculated. In general I normally find you need more than you would expect, for a days walk I would carry a minimum of 2 litres, however, this is highly dependent on temperature and levels of exertions. Tips, carry only purified water in drinking bottles, flood bottle threads to ensure purification of the bottle, do not touch bottle threads with your hands as this can lead to contamination. I have two main water containers, a British army water bottle (1 litre, in belt pouch) and standard camping water bottle (1 litre, in rucksack). Tip, when buying a water bottle consider bottle size (handling) and neck size (filling). In an emergency a convenient water container (pre-packed) is a strong plastic bag, with a line drawn on it indicating the water level for 1 litre (for chemical purifiers).
Figure 3.1.5 : Water containers
When backpacking the lack of water and clean cloths can lead to the temptation to go wild and not bother to have a proper wash. This is particularly true when you are first starting and havenít found a daily routine and the correct equipment that suits your needs. Also of course it can be forced upon you when water is very limited. In normal situations the first thing to do in the morning is to have a good wash. The prospect of this can be a little daunting, requiring a bit of conviction to leave the warmth of your sleeping bag for the cold of the morning and the even colder wash. However, its worth doing, as this ritual wakes you up, re-adjusting your internal thermometer back to normality i.e. if you only have the warmth of your sleeping bag as a reference every morning will feel very cold, having a quick cold wash puts the mornings true temperature into prospective, meaning you donít pile on extra layers of unnecessary clothing. Before washing take this opportunity to check for ticks, a folding mirror is a great help allowing you to check your back and those warm dark regions where they like to hide. Tip, deer ticks can be quite small so take your time. Donít wash directly in your water source i.e. the river etc, wash on the land to allow the soap to disperse and break down in the ground. I donít shave every day as I find that I cut up my face if there isnít at least a bit of stubble to shave off (the joys of cold water shaving). It goes without saying, when brushing your teeth only use purified water. If water allows I do like to give my hair a quick wash and comb (give your hair a good comb every day anyway), otherwise I find my scalp starts to play up a bit after a few days of neglect (itchy, uncomfortable). Tip, before embarking on a trip have a hair cut, less hair to wash and dry. Although a towel is nice to have, they are bulky and never really dry (soon start to smell), so I donít carry them. A small flannel does the job fine, making your water go further when washing, rung out can be used to dry with (well gets the worst off) and as its small dries quickly when tied to the back of the rucksack or a convenient tree. Tip, get a flannel with a loop or sew one on, to prevent it from being blown away when drying, also when your finished drying give the flannel a quick wash with soap and rise in water to keep it fresh. Washing and looking after your feet is another important task, to keep them in good condition i.e. prevent blisters and foot root, however, I tend to do this last thing at night before bed (as described in the medical and boot sections), no real reason, just seems the logical order.
To prevent tummy bugs soap and water are your best defence, always wash your hands before and after preparing food (take especial care when handling raw meat, game) and of course after the toilet. Tip, pour water for washing into a collapsible bowl, donít wash your hands by pouring water over them from a drinking canteen as you could contaminate the container and you tend to waste more water this way. Tip, be very careful not to touch the inside or threads of a canteen to minimise the risk of water contamination. Another good idea is to chose an antibacterial soap / hand wash and to use a rub in hand sanitizer, as shown in figure 3.1.6. As with anything you put in your rucksack only carry enough for your needs, therefore, I decant the hand wash into a smaller container, an old plastic lemon juice bottle works well (screw top, inner top can be removed to allow it to be easily filled. An alternative to man made soaps are to use Horse chestnut (best), or Birch leaves, as these contain a natural soap like compound, as shown in figure 3.1.6.1 and 3.1.6.2. For Horse chestnut leaves strip off the thick central stems, then rub, crush a small handful of leaves between your hands. When the leaves have been bruised add a little water and squeeze out the liquid soap, this can be rubbed to produce a laver, not as thick as commercial soap but still an effective means of cleaning your hands etc. An alternative to, or emergency replacement for your toothbrush is to use an Alder (best) or Hazel stick. Select a suitably sized green stick and chew the end to form a brush, as shown in figure 3.1.6.3. Alder is easy to identify, likes wet soil, one of the few deciduous trees that has cones, figure 3.1.6.3 shows this years cones (green and closed) and the previous years (brown and open). The natural chemicals in Alder form a usable cleaning compound, this can be supplemented by using wood ash and salt (used salt, never had the desire to try ash).
Figure 3.1.6 : Soaps
Figure 3.1.6.1 : Horse chestnut leaves

Figure 3.1.6.2 : Birch leaves

Figure 3.1.6.3 : Alder trig toothbrush
Back to Index